Rugby ball signed by Llanelli and All Blacks for sale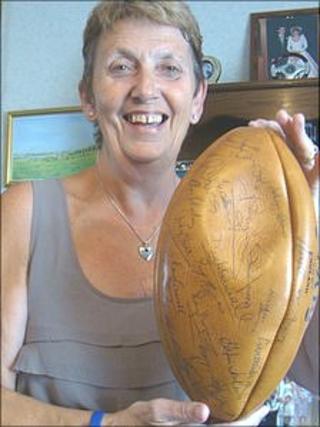 A piece of sporting memorabilia from one of the most talked about games in Welsh rugby is being put up for sale.
A signed ball from the day Llanelli beat the New Zealand All Blacks at Stradey Park in 1972 has been gathering dust on a sideboard.
Now its owner Margaret Richards, who won it in a raffle after the game, has decided to auction it off.
She is hoping the ball, signed by both sets of players, can be converted into a couple of thousand pounds.
Few expected Llanelli to beat the All Blacks when they toured Britain.
Yet on 31 October 1972, a Scarlets side emerged 9-3 winners of what was a bruising, brutal encounter.
At the final whistle the Llanelli players were carried off the pitch by a sea of rejoicing fans and the celebrations continued late into the evening.
Legend has it many of the town's pubs ran dry.
Mrs Richards said: "We went to the game and they were selling raffle tickets.
"When I got home I had a telephone call to say I had won the ball.
"Everybody was so into rugby - I could not believe it."
She said she had kept it safe over the years and although it would be shown to family and visitors, her children were not allowed to play with it.
"We talked about putting it in a cabinet for a long time but never got round to it".
She said that apparently there were three match balls on the day. One went to the match's only try-scorer, Roy Bergiers, and it was believed another had gone to the Scarlets, although she said that apparently they did not have one.
"I really don't know how much it is worth but I think it should be on display. It's such a waste just having it in the house."