Blind bank manager fails in land speed record bid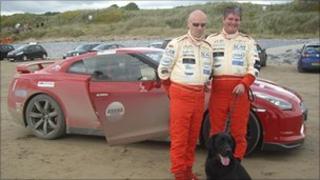 A bank manager's attempt to become the world's fastest blind man has failed.
Mike Newman, 48, from Sale in Greater Manchester, hoped to drive a supercar at close to 200mph (321 km/h) to reclaim the world blind speed record in Carmarthenshire.
He was forced to use a back-up car after his main vehicle, a Manchester-built Keating TKR, was damaged.
The replacement Nissan failed to beat the 187mph (301km/h) record set this year by Turkish driver Metin Sentuk.
Mr Newman was guided across Pendine sands by his father, who is also his trainer, watching from a helicopter overhead.
Mr Newman's friend Chris Walker, who watched the attempt, said he was unable to push the back-up car beyond 174mph (280km/h).
"We were told the car had the capability of 196mph (315km/h) but the car wouldn't do any more than 174mph," he said.
'Great support'
"It's very disappointing but nobody was injured and that is racing.
"There was a very big crowd there, hundreds of people. They were applauding and wishing him luck.
"They gave him great support and were really behind him."
The damage to Mr Newman's main vehicle happened when it spun out during a practice run on Saturday.
His team now plans to wait until the damaged vehicle is repaired before making another attempt at the record.
Mr Walker said that could happen within a month.
Mr Newman, who was born blind, is also raising money for charity, including Vision Charity, which raises money for blind, visually impaired and dyslexic children and the Guide Dogs for the Blind Association.
He also hopes to encourage disabled people to get involved in motor sport.
Motorsports fan
Before Sunday's record attempt, the business manager with Barclays said: "I've been a keen motorsports fan most of my life and this has given me an opportunity of a lifetime - a dream to drive a supercar.
"In the process of that I get the chance to break the land-speed record for a blind driver, driving unaccompanied."
The car he was using was British-built, the Keating TKR, designed and manufactured by Keating Supercars Ltd in Manchester.
Mr Newman's father acts as navigator by radio link.
Mr Newman performed test runs along the seven miles of sands, the scene of other speed attempts down the years, in a Jaguar.
In 2003, he set a 144mph (231km/h) record in a Jaguar in York, then smashed that record in 2005 in a BMW M5, reaching 167mph.
Simon Morris, chairman of Pendine Community Council said: "It is fantastic that Mike and the Speed of Sight team wanted to hold their record attempt on our beach."