RSPCA acts over Swansea 'cat chaos'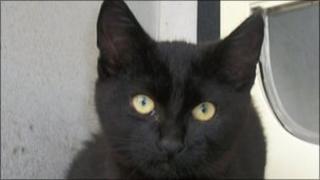 An animal welfare charity say it is "probably the worst summer ever" for stray cats and kittens in Swansea.
The city's RSPCA centre is said to be "full to bursting" with strays and now bosses have decided to offer unwanted pets for free to clear the decks.
"This is quite a big step for us and we don't think the RSPCA has ever done anything like this before", said Gary Weeks, manager at the centre.
"Making no charge is a bit of a risk, but we have to try something."
The charity's Llys Nini animal centre has 100 cats, with more being sent to other animal shelters so the RSPCA can cope.
The problem is across the centre's catchment area, which also covers Port Talbot and Bridgend.
"We've all taken cats home - I've got four kittens in the dining room," said Sally Hyman, chair of the trustees to the centre.
She believes a surge in kittens being born last year is one of the causes.
"The normal kitten breeding season is between May and July but we were finding kittens being born all year around.
'Fend for themselves'
"Unfortunately not enough people are getting cats neutered and there is no excuse really because if they're on benefits, we will neuter their cat for them for free.
"Also we've just found not as many people are adopting cats, but they are still adopting dogs."
RSPCA managers say it is "cat chaos" and estimate there could be thousands of strays across the area.
"It seems that people are allowing their cats to get pregnant and then they are just throwing them out, leaving the cat and her kittens to fend for themselves," said Mr Weeks.
"The normal adoption charge does not even cover the cost of our normal cat care.
"It is not just us who are struggling to cope. Swansea Cats Protection are in the same situation."
There will still be checks on potential new homes to ensure owners are responsible but all cats will be neutered and vaccinated.
The free offer will apply throughout August.