Poachers blamed after illegal net kills otter on Teifi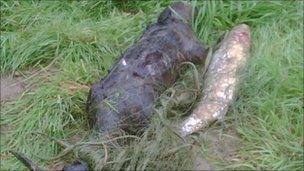 Poachers are being blamed after an otter and a migrating salmon were found dead in an illegal net on the River Teifi in Carmarthenshire.
The Environment Agency said the salmon and the otter became entangled in the net, near Newcastle Emlyn, and drowned.
The agency's crime officers have been patrolling the area and are appealing for witnesses.
If caught the perpetrators could face fines of up to £5,000 or three months in prison.
The dead animals were discovered on Tuesday as Environment Agency officers were removing the illegal net.
They said a male otter and a hen salmon migrating to spawn were caught in it.
Lyn Richards of Environment Agency Wales said: "This just shows how much damage these illegal nets cause.
"We are always angered when we find salmon or sewin caught in these illegal nets and killed as we know the impact it has on our native fish stocks.
"To find an otter killed by one of these nets just makes it worse. Poaching in all its forms has a serious effect on local wildlife and the economy.
"Our officers use information and their know how to target areas like this. We are determined to catch those responsible."
People with information about the crime can contact the agency in confidence on 0800 80 70 60.
Related Internet Links
The BBC is not responsible for the content of external sites.