Ex-Miss Wales bodybuilder's peaks bid in drink battle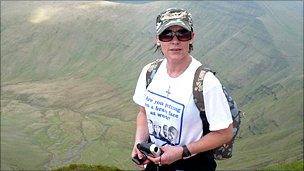 A former Miss Wales bodybuilding champion and recovering alcoholic has taken part in a three peaks mountain climbing challenge to support the group which helped her stop drinking.
Sharon Naylor, 40, from Llanelli, won the bodybuilding title in her early 20s, but had begun drinking by 24.
She has raised money for the Turning Point alcohol misuse support group.
The Welsh Three Peaks climbers from the group also fundraised for the special care baby unit in Carmarthen.
Ms Naylor, who has two children, entered her first bodybuilding contest at the age of 20.
"I then entered the Miss Wales competition and won this too," she said.
"A spine injury stopped me from continuing and I started running for the Sosban Road runners in Llanelli.
"We won many events as a team and I trained every morning.
"By the age of 24 I was married and had two children. I wasn't happy staying at home as I wanted to continue my training so I started drinking."
Her marriage broke up and she moved home, making friends with other heavy drinkers.
It was not until she moved again in 2008, away from the other drinkers that she started to recover.
She sought help from the Prism alcohol and drug advisory service in Llanelli and was referred on to Turning Point last year.
"I'd become a very angry person through drinking," she said. "I recognised this and was offered anger management counselling. I realised it was it was the drinking that was making me angry. I also had some mainstream counselling.
"Amongst other things, I realised I was interested in counselling myself. As a result, I started a counselling study course. I've learnt such a great deal about myself from doing this, and I've found it so motivating."
Ms Naylor, who has not had a drink for eight months and is being treated for bipolar disorder, has also become involved with the Ramblers and has found the exercise theraputic as well as useful preparation for the three peaks challenge.
The climb on Friday saw the participants climb Snowdon, Cader Idris and Penyfan.
Ms Naylor said: "I think being active, like I was in my younger days, keeps me motivated and happy. On the whole things are looking better and better.
"I'm closer to my children than I was before and my family is proud of me for coming to Turning Point.
"I have my lows but I'm learning to cope - I feel I'm on the road to recovery."
Turning Point Carmarthenshire is supported by the Big Lottery Fund. Money from the climb will go towards the group and West Wales General Hospital's special care baby unit in Carmarthen.
Related Internet Links
The BBC is not responsible for the content of external sites.