Swansea pair's survival jacket wins Dragons' Den backing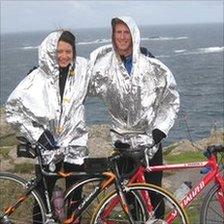 Two entrepreneurs have survived the scorn of the BBC's Dragons' Den to win £75,000 financial backing for their innovative product.
Letitia Valentine and Alex Lewis from Swansea faced the formidable business gurus on the TV show on Monday.
They endured a grilling over their product, a jacket designed to prevent and treat hypothermia and shock.
The pair came up with Surviva Jak after Letitia developed hypothermia while cycling in the Brecon Beacons.
Despite a tough presentation, the pair persuaded one of the Dragons, Deborah Meaden, to pledge a 45% stake in the business - an offer they had few qualms in accepting.
Miss Valentine, 27, said: "Going in front of the Dragons is as terrifying as it looks.
"With camera crews and the studio audience, there's actually about 50 people in there, all listening to your presentation.
"During ours all the Dragons except Deborah were actually giving us a pretty hard time.
"I was nearly crying at one point and Deborah told them they were being unnecessarily rude."
But they said that off-screen she is actually far less frightening and has been a huge help to their fledgling business.
Surviva Jak was dreamt up in March 2009 after the friends encountered harsh weather on a cycle ride.
Mr Lewis, 27, said: "Letitia had got very cold and wet and was in a bad way. I was extremely worried about her.
"I used a foil blanket to try and warm her up but it was useless as she couldn't cycle in it and we had to get off the mountain to get help."
Fortunately the pair made it to the safety of a café but were frightened at how different the outcome could have been. It was then they had their eureka moment.
"We thought it was crazy that no-one had made a jacket version of the blanket, and that's where the idea began," said Miss Valentine.
"The jacket allows the wearer to move to safety and perform what can be life saving tasks, such as pitching a tent or moving to get help. These are things that are very difficult to do using the traditional foil blanket."
The product is now available from outdoors and camping equipment retailers across the country and via their website.
Mr Lewis and Miss Valentine are also in talks to expand their range of products.
Related Internet Links
The BBC is not responsible for the content of external sites.