Prince Charles opens door to Carmarthenshire home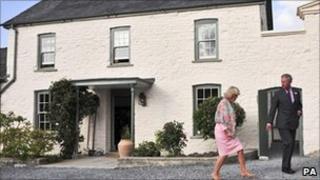 Prince Charles is opening the doors to his Welsh retreat as part of a scheme to showcase some of the nation's most important properties.
Members of the public will have chance to look around Llwynywermod in Carmarthenshire.
But the free tours next Tuesday and Wednesday are already fully booked.
Open Doors sees a range of buildings from private homes to archaeological sites, castles to examples of modern architecture opened to the public.
The scheme, which runs throughout September, is organised by the Civic Trust for Wales on behalf of Cadw, the assembly government's historic environment service.
The estate of about 200 acres near Llandovery was bought by the Duchy of Cornwall in 2006.
It has been used by Prince Charles and the Duchess of Cornwall as the base for their annual summer tour of Wales since 2008.
The Civic Trust said it had been included in the programme as it showed the Prince's commitment to heritage and sustainable development.
Once the coach-house to a now ruined 13-bedroom country house, it has been renovated using the expertise of skilled Welsh craftsmen and women.