Elisabeth 100th trip to annual Neath Fair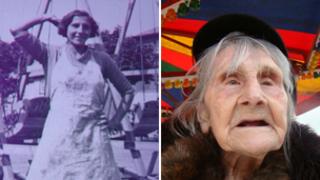 Since she was born Elisabeth Holmes has never missed a trip to Neath Fair - not bad when you are 100 years old.
As a youngster she helped her parents run a riffle range and swing boat rides around south Wales.
Her son and granddaughter have followed in the family tradition and Mrs Holmes joined them when the 730th Neath Fair got underway on Wednesday.
She said the rides had changed greatly since her day when the fairs travelling around Wales were drawn by horses.
Her son Phillip, from Llanelli, said: "She was brought up in the fair business all her life. She would tell me she never missed Neath Fair.
"She use to look after her parents rifle range in her 20s.
"But her father stopped that due to safety worries just before the war - they used to use real bullets.
"They then went more into swinging boats and children's rides."
Heritage and history
Mr Holmes drove his mother around the fair ground on Wednesday afternoon before the event - which runs until Saturday and dates from medieval times - got fully underway.
"Neath Fair is special because its probably the biggest run by the south Wales branch of Showmen's Guild," he added.
Mrs Holmes, who turns 101 next month, said: "We use to have horses pulling the vans. They were the good old days."
Accompanying the rides and amusements is a street trading fair selling a wide range of products and foods.
The historic horse fair takes place in Neath Cattle Market at the Green on Thursday.
"The Great Neath September Fair plays a huge part in the heritage and history of Neath," says council Leader, Ali Thomas.
"Residents look forward to the vibrancy and fun atmosphere the annual fair always brings to the town.
"Visitors come from miles around bringing a huge boost to the local economy."