Global experts discuss threatened languages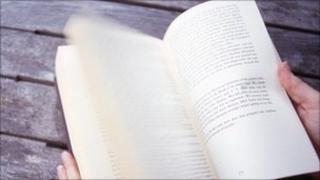 Some of the world's most endangered languages are the focus of an international conference being staged in Wales for the first time.
About 100 academics are expected at the Foundation of Endangered Languages' event at the University of Wales Trinity Saint David in Carmarthen.
Indigenous languages in Ireland, China, Australia and Spain are among those being discussed over two days.
One expert likened the threat to that posed to some animal species.
The conference was originally planned for Ecuador, but was switched to Wales.
It takes the theme Reversing Language Shift: How to Re-awaken a Language Tradition.
Dr Hywel Lewis, a foundation member, based at the university said: "Many languages are on the verge of extinction. Their fate can be compared to that of many animals facing extinction, but they probably receive less global attention than the fate of many animals.
"As a foundation, we are very concerned with highlighting the part language plays in cultural variety and diversification.
"It is also important to consider the economic repercussions of promoting different languages.
"Languages can play a massive part in the identity and profile of various parts of the globe and they can be powerful economic factors."
But he said it was not all doom and gloom, and the conference would hear about languages in Russia which were making a comeback after years of oppression.
As for the conference, Dr Lewis added: "It really is something of a coup for the university. It is a major annual international conference and we are looking forward to being the host university."
'Complex situation'
Conchur O Giollagain, head of the language planning unit at the National University of Ireland, Galway, will be one of the speakers at the event.
An expert on the use of the Irish language (Gaeilge) in the Irish-speaking region of Ireland (the Gaeltacht), Mr O Giollagain said many threatened languages found themselves in a complex situation.
Gaeilge, spoken by just under half the population of the Gaeltacht, provided a good example of this.
The number of people learning the language is growing, he explained, and great progress is also being made in terms of educational provision.
But he added: "The number of learners does not necessarily help the number of native speakers.
"For a language to succeed you have to have a high population of active language speakers concentrated in a given geographical area.
"Based on existing trends there is a strong threat to the communal use of Irish and, if these trends continue, Irish will not exist as a language in 20 years' time."
Mr O Giollagain said the Irish government was at present examining its 20-year strategy for Gaeilge, and that he remained "hopeful" for the future.