Bishop unhappy Pope not visiting Wales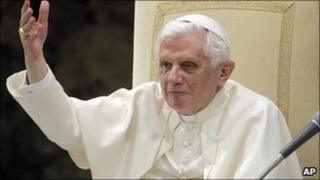 A bishop who helped organise Pope John Paul's visit to Cardiff in 1982 says he is unhappy Pope Benedict XVI will not be coming to Wales this week.
Daniel Mullins, the former bishop of Menevia - covering much of mid and west Wales - called it a missed opportunity.
He said as it was state visit with arrangements made by the UK government it was not the fault of his colleagues.
First Minister Carwyn Jones invited the Pope to Wales but was told because of tight scheduling it was not possible.
Bishop Mullins told the BBC Radio Cymru programme Post Cyntaf that in 1982 they had to fight for the Pope to come Wales.
But he said this time it was difficult because the visit had been announced by then prime minister Gordon Brown and it was only for three days.
"I feel slightly annoyed that they ignored Wales to a large extent. That's London's attitude always, " he said.
"We are on the fringes in Wales and we get ignored quite a lot.
"When Pope John Paul visited in 1982 everyone had a part to play and contributed financially - it was a big day when he came to Cardiff.
"Interest in this visit is less than in 1982."
About 60 pilgrims from his former diocese, which covers much of mid and south west Wales, are taking a sacred statue to be blessed by Pope Benedict XVI at Westminster Cathedral on Saturday.
The current bishop of Menevia, Tom Burns, said he was confident the papal visit would help the revival of the Catholic Church in Wales.
First Minister Carwyn Jones did write to the Pope's representative in the UK inviting him to Wales but was told because of tight scheduling it was not possible.