16 nurses 'must care for 3 Swansea hospital patients'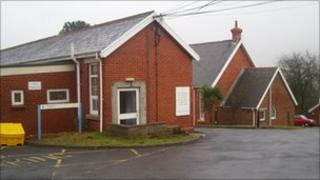 NHS managers who want to close a community hospital say it has had 16 nurses caring for as few as three patients recently.
The ABM University Health Board says it is spending £560,000 a year to keep Fairwood Hospital in Swansea running.
The 19-bed hospital has been under threat of closure for five years.
However, campaigners claim that in previous years it had been "packed to the rafters" with patients, and that it still could be.
The health board has included fresh plans to close the hospital in its latest five-year plan.
It said that for the past few weeks there have just three patients at Fairwood and never more than five for several months.
But it says it employs the equivalent of 16 full-time nurses as it must have at least two per shift covering the hospital 24 hours a day, seven days a week.
Most of the patients sent to Fairwood have been discharged from Singleton or Morriston hospitals but without arrangements in place for care at home.
Spare capacity
The health board said there was spare capacity at Gorseinon Cottage Hospital and they could go there instead.
There are no doctors employed at Fairwood and there are no outpatient services.
It used to be used to provide a place to stay for patients travelling from west Wales for radiotherapy or for women recovering from breast cancer surgery but they are now accommodated elsewhere.
A spokeswoman for the trust said: "We believe that, given the choice, most patients would prefer to be cared for at home with the appropriate support.
"Although the numbers using Fairwood are now very small we recognise that there are concerns about where these patients would go if Fairwood was closed.
"Our plans are to make full use of Gorseinon Hospital where we will have the capacity while care packages and other services are being put in place."
Ageing population
She said staff at Fairwood would be offered other jobs.
Plaid Cymru AM and Swansea GP Dr Dai Lloyd said he appreciated health boards in Wales had to make financial savings.
But he added: "In days gone by Fairwood Hospital was packed to the rafters with high quality care and in fact it could be now as well.
"[It] has been under threat of closure for five years and the criteria for transferring people to this hospital have got ever more stringent.
"With an ever ageing population there are always going to be patients who are well enough not to be in an acute hospital but too ill to be left at home alone even with carers around the clock.
"If given a level playing field it could be full."
The plan to close Fairwood will go before community health councillors next week who will decide if there needs to be a full public consultation.