Carmarthenshire police car crash death 'accident'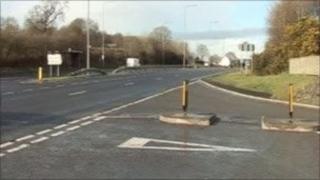 Safety fears were raised about a dual carriageway junction in Carmarthenshire eight years before a businessman died there, an inquest has heard.
Roger Bowen, 55, died after pulling out into the path of a police car chasing a speeding motorist on the A48.
Recording a verdict of accidental death coroner John Owen said driver error by Mr Bowen caused the crash.
The junction is to be blocked off but Mr Owen said had action been taken earlier it may not have happened.
The inquest in Llanelli heard trunk road agency officials had started to consider changes to the junctions along the A48 between Pont Abraham and Cross Hands as early as 2001.
In 2004 an unnamed police officer told a meeting with Welsh Assembly Government officials the junction at Cwmgwili should be closed.
Consultants were asked to monitor the stretch of 70mph limit road but between 2001 and 2008 the frequency of accidents was "low".
That changed in March 2009 when fruiterer Mr Bowen suffered multiple fatal injuries in the crash.
Point of impact
It came within five weeks of another fatality at the same site.
The inquest heard he was driving his son home from swimming practice when he attempted to cross the oncoming eastbound lane into Cwmgwili, where he had lived all his life.
His Vauxhall Astra pulled out in front of a white Volvo estate marked police car being driven by Pc Keith Harding.
Pc Harding was in pursuit of a motorist, caught speeding at 88mph, and admitted when giving evidence at a previous hearing reached speeds of up to 100mph.
But accident investigators put his speed at 76mph at the point of impact and between 81 and 96 mph just beforehand.
Pc Harding, who Mr Owen described as a "conscientious officer", had told the coroner "there was little time to react" when Mr Bowen pulled into his path.
An investigation by the independent Police Complaints Authority had already cleared Pc Harding of any blame.
'High priority'
Mr Owen said even though as far back as 2004 police had urged the junction be closed there was no evidence this was followed with a warning to officers to take care along that stretch of road during high speed pursuits.
"If the concerns raised by police had been passed on to police drivers it is possible that the death of Mr Bowen might have been prevented," he said.
He said he would be writing to the chief constable of Dyfed-Powys Police urging the force to assess all dual carriageways in its area and to warn police drivers about approaching dangerous junctions at high speed.
Mr Owen said that in November 2009 Deputy First Minister Ieuan Wyn Jones wrote to Carmarthenshire council to tell the authority he was treating that section of A48 as a "high priority."
The coroner said he had been told that the formalities needed before the junction could be closed were being dealt with.
He said he would monitor the situation and would act if the process dragged on too long.
Mr Bowen's family, who organised a petition calling for safety improvements at the junction, said they did not wish to comment at this time as they left the hearing.