Swansea artist's 'ugly beauty' in industrial decline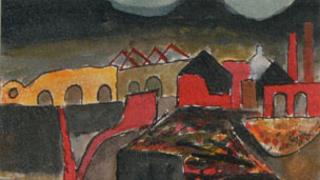 Disappearing industrial landscapes inspire a Swansea artist, whose latest solo exhibition is about the get under way in his home city.
George Little, now in his 80s, will bring 65 new works to the show, Here And There, at the Attic gallery from 24 September.
The former Swansea university art teacher has been painting full time since his retirement in 1994.
He says he has been inspired by the colours and shapes of decay of the copper, coal and steel industries.
"Most of my life has been spent in and around industrial areas and from these I have found the stimulation for my paintings and drawings," he says.
"These areas have now been sanitized and built upon and the ugly beauty has been replaced by characterless features.
"My main source of ideas has largely disappeared and so I look for new subjects and another adventure in painting is beginning for me."
Little was born in Danygraig, Swansea in 1927, and had a long career teaching art, as well as exhibiting his own work with 20 solo shows across the UK in nearly half a century.
The exhibition will be at Attic Gallery, 37 Pocketts Wharf, Maritime Quarter from 24 September-16 October.