£12m redevelopment unveiled at Felindre tin works site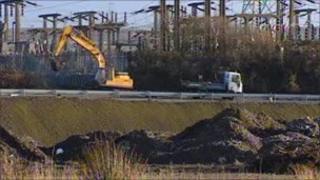 Plans to develop a hi-tech business park on a site that once employed 2,500 tinplate workers have been unveiled.
Almost £12m of European and assembly government funding will be spent at Felindre near Swansea.
The work includes a new internal road and providing electricity, gas, water, drainage, lighting and high-speed broadband access.
But one economist said he had his doubts about the project and said the funding could be better spent.
The tinplate works closed in 1989 and, apart from staging the National Eisteddfod in 2006, the site has remained mostly derelict ever since.
Deputy First Minister Ieuan Wyn Jones said: "This funding will provide a major boost to develop the Felindre site into a key business park for the region.
"It will create an accessible and high-quality environment for business with the capacity to attract investment to the region and leading to more job opportunities."
Other investment at the site will see the landscaping of gateways and public areas and provision for buses.
Swansea council's cabinet member for economic development Gareth Sullivan said: "Our aim is that Swansea will have employment land of the highest quality to attract investment and provide jobs in future.
"The infrastructure works will go some way to helping us meet that objective at Felindre."
But Dr John Ball, at Swansea University's School of Business and Economics, has doubts over the investment.
"At the end of the day there are many empty units in the Swansea area," he said.
"The old Fforestfach estate for example, the old Cumdu estate.
He added: "The site is a bit wild, it's well off the M4, it's certainly not conducive to new units, and indeed one wonders whether these new hi-tech units will find tenants in any event."