Union talks on Resolven car plant closure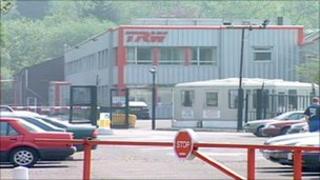 Union representatives will meet managers later at a car parts factory in the Neath Valley that has been earmarked for closure.
TRW Automotive said it was planning to close its site in Resolven because of "significant over-capacity" in its European operation.
The plant employs 225 people, who had offered to take a wage cut in order keep the plant open.
Economy Minister Ieuan Wyn Jones called TRW's move "extremely disappointing".
Gilbert John of BBC Wales said workers going into the plant before the meeting were "shattered" by the news of the closure of a plant which has long been one of the backbone plants of the Neath Valley.
Derek Vaughan, Labour MEP for Wales, and a former leader of Neath Port Talbot council, said he was shocked by management "tactics" at TRW.
He accused TRW of holding a "reverse auction" among its plants in Europe to find out which staff would take the biggest cuts.
"It makes me wonder if the plan all along was to close the Resolven plant," he said.
Neath MP Peter Hain said the workforce had been willing to make "tough and brave" cost savings which would have hit their earnings by more than 15% and possibly more if a guarantee had been given that Resolven had a future.
He said: "The problem was that other TRW European plants, including in Germany, Spain, France and Italy, were also volunteering pay reductions and government support."
Councillor Des Davies, who represents Resolven on Neath Port Tabot council, said the plant closure would be a major blow to the town.
"TRW has made a major contribution to village life, if only in providing long-term employment with good wages," he said.
Mr Davies, who had worked at the plant himself for 33 years, said he understood the local authority had offered a £100,000 package to the company.
"There were further talks planned in January and February to see what could be done for 2011/12 financial year.
'Assisting employment'
"All these were aimed at assisting continuing employment at Resolven."
The US-based company has said the plant had been making a loss for several years and it was consulting staff about closing early next year.
Neville Rudd, operations director for TRW steering in Europe, said: "This situation has worsened as a consequence of the reduction in overall vehicle build in Europe following the global economic crisis.
"We urgently need to take action to improve the overall competitiveness of our steering systems business.
"To make this proposal wasn't an easy decision and we have reviewed all possible alternative solutions."
Professor Garel Rhys, from Cardiff Business School, said he was not surprised by the news.
"The plant has really been marginal for four or five years. It makes a product, the hydraulic steering column, that is really being phased out in the world motoring industry."
He said the problem was that TRW had not invested in newer, electronic, power-assisted steering columns at the plant.
"The workforce was excellent, as was productivity [but] the demand overall for that product was falling as it was a product of the past."
Gareth Jones, of Unite union's Swansea office, who is due to meet TRW management later, said: "We were aware the company was rationalising operations and that Resolven was included in the review.
"A decision was expected but we're disappointed that it is the total closure of the site."