Swansea security man accused of killing says he was hit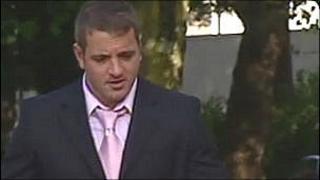 A security guard who denies the manslaughter of a man he caught shoplifting said he was hit in the face in the struggle.
Sam Bawden, 25, denies unlawfully killing Aaron Bishop at Swansea's Quadrant shopping centre in July 2009.
The jury at Swansea Crown Court was told the centre's manager saw the incident.
Allan Wallace said he would have intervened if he felt his staff were doing wrong or Mr Bishop was in danger.
Mr Bishop, a former soldier of Treboeth, Swansea, died after he was caught stealing a £35 bottle of perfume from Debenhams.
Mr Bawden, known as Josh, from Neath, told the court the shoplifter had hit him in the face as he tried to restrain him.
The jury has already heard that Mr Bawden was one of four shopping centre security guards who chased down Mr Bishop and held him in place awaiting the police.
Patrick Harrington QC, prosecuting, has alleged Mr Bawden had his arm around Mr Bishop's throat.
In court on Monday, the jury was shown a video of Mr Bawden's police interview, which took place soon after Mr Bishop died.
In it he is shown telling officers: "A guy was shoplifting in Debenhams and we were asked over the radio if we could detain the male as he was about to leave.
"One of the boys grabbed him and I get hold of him, it's a bit of a struggle but between us we've managed to get him to the ground.
"He's a large male, quite strong, it's taken four of us to restrain him and take him down and he's struggling throughout.
"The police arrive and place handcuffs on him. He was turned over then and he wasn't breathing."
Mr Bawden is also shown claiming that at the start of the struggle Mr Bishop hit him in the mouth.
He said: "He hit out at me to try to stop me getting him.
"My left arm was under his body and I had my right arm on his back and on his head trying to stop him getting up.
"I was just doing my job. We were not going to get off him because he's been shoplifting and being aggressive."
The trial continues.