Campaigners set to run Swansea tennis centre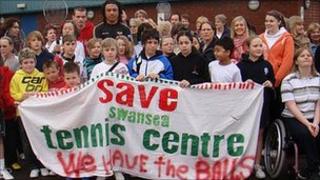 Campaigners fighting the closure of Swansea Tennis Centre are set to take it over.
The indoor and outdoor courts near the Liberty Stadium was costing the city council £120,000 a year to keep going.
Councillors have now accepted a business plan put forward by centre users that will see them take control.
Campaigners, who have secured support from the Lawn Tennis Association (LTA), said they were delighted but that the really hard work 'starts now."
Their group called Tennis Swansea 365 submitted plans to take-over the centre at the start of the summer.
Details of the lease are still being worked but the council said the final arrangements would mean no more subsidies from tax payers.
Cabinet member for Culture, Recreation and Tourism, Graham Thomas, said: "I'm delighted we've been able to work in partnership with Tennis Swansea 365 and the LTA to make real progress in securing the future of the tennis centre.
"We always said we'd consider the viability of any business plan to run the attraction so long as there was no cost to the council and what Tennis Swansea 365 has done is to submit a professional, well-considered proposal."
Carys Jones, part of the campaign steering group, said they were delighted their plans had been approved.
But she warned: "This is where the hard work really starts - we've got a lot of fundraising to do."
Mrs Jones said they need to raise £25,000 for the start up and then make sure the funds continue to flow in.
She said the tennis centre was the only one in south west Wales.
"Tennis is something that should be available to all. There are people from three to 80 who play at the centre.
"We are all very willing and will work hard to keep it going."