Security guard cleared over shoplifter's death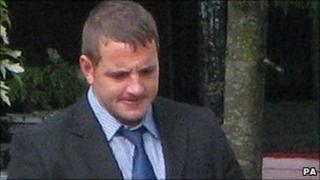 A security guard charged with the manslaughter of a shoplifter in Swansea has been cleared by a crown court jury.
Aaron Bishop, who was 22, died after being restrained at the Quadrant Shopping Centre in July 2009.
The prosecution claim Sam Bawden, 25, put the former soldier in a "choke hold" and used excessive force.
But Mr Bawden, of Neath, had denied using any kind of head lock and told Swansea Crown Court he was just doing his job.
Leaving court he said he was pleased with the verdict but did not comment further.
Mr Bishop's family handed out a statement on the steps of the court.
It read: "Aaron was a very loveable boy who will be sorely missed by all our family and friends.
"All those who knew Aaron were saddened by his sudden and tragic death.
"This has been a very trying time for my family and I would like to thank those who came forward to give evidence during the trial."
It also praised the prosecution team and the police officers who investigated the case for their "dedication and professionalism".
The jury had heard Mr Bawden was one of four security guards who pinned down Mr Bishop after he fled a Debenhams department store after stealing a £35 bottle of aftershave.
The court heard Mr Bishop struck Mr Bawden in the face but the accused said it had not made him angry and he did not intend to cause Mr Bishop any harm.
Mr Bawden, who left school at 16, was of clean character, and had no previous convictions.
'Very angry'
He told the jury he also worked as a doorman and had never hurt anyone in that line of work.
But during the prosecution, Patrick Harrington QC said Mr Bawden "used wholly inappropriate and we submit excessive means to restrain Mr Bishop".
He told the jury Mr Bawden had grasped Mr Bishop tightly round the throat for a period of 10 minutes.
One shopper, Samantha Gregory, told the court she warned Mr Bawden he could kill Mr Bishop.
"Whatever this man had done there was just no need for it at all. It was completely unnecessary," she said.
Mr Bishop had also been heard to cry for help and complain he could not breathe.
'Still shouting'
But Mr Bawden claimed in his defence he thought the shoplifter's cries were part of a "trick" to get away.
"In my opinion you have got to breathe, and the fact that he was still struggling, violent and aggressive, the fact that he was still shouting, I came to the conclusion that he was trying to trick us," he told the court.
He had also made it clear during his evidence that he had never held Mr Bishop around the neck at any time.
The jury was also told the shopping centre's manager, Allan Wallace, saw the incident.
He said he would have intervened if he felt his staff were doing wrong or Mr Bishop was in danger.
South Wales Police said it noted the verdict "but at this time our thoughts today are with Aaron's family as they continue to grieve".