RT Property creditors in Swansea accept offer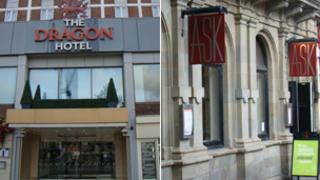 Businesses and investors owed money following the collapse of a Swansea property company have accepted an offer of 1.34p for every pound they lost.
The deal is an improvement on the 0.26p offered to them last month.
RT Properties, owned by Roy Thomas, managed premises in Swansea and Cardiff including buildings occupied by the Dragon Hotel and Marks & Spencer.
The company owed about £32m, about £6m to small companies and investors.
The Individual Voluntary Arrangement, accepted at a creditors meeting in Swansea on Tuesday, means Mr Thomas, of Sketty, will avoid bankruptcy.
He is the former chairman and owner of Cardiff-based airline Air Wales, who also owned Swansea Airport.
Among the other buildings managed by RT Properties were Ask restaurant and Idols nightclub in Wind Street, and nine properties in Cardiff, including the Ha Ha bar and restaurant in The Friary.
All are unaffected and remain trading.
Among the creditors were private investors, cleaning companies, law and security firms and Swansea council.
Insolvency practitioner Sandra McAlister who drew up the agreement said Mr Thomas had built up his property portfolio over 40 years.
"He is absolutely devastated over the whole affair and he really wanted to do his best for the creditors and do what's right," she added.
"There is a large percentage of creditors that have invested in Mr Thomas over the years and he has used their money to improve his properties and buy further properties."
She said creditors were owed amounts ranging from £30,000 to £1m.
"Most of his creditors are friends and he has dealt with them for many years," added Ms McAlister.
"They are very supportive - over the years Mr Thomas has returned considerable sums to them and the majority understand his position."