Dealer bought town band's stolen instruments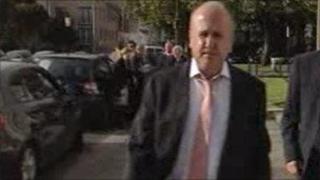 A scrap metal dealer who paid thieves £61 for £15,000 worth of musical instruments has been found guilty of handling stolen goods.
Marcus Egan, 35, who runs Egan Metals in Gorseinon, then crushed the instruments belonging to Pontardulais Town Band to make a profit of £10.
He had denied the charge but was found guilty by a jury at Swansea Crown Court.
Three men had previously admitted burglary.
Sentencing was adjourned but Egan was told he faced a jail sentence.
The jury had heard three burglars broke into the band's music room on 7 December last year.
They stole a hamper, Christmas gifts for children as well as a variety of brass instruments.
The thieves then took the instruments to Egan's metal firm, where he bought them for scrap.
Several hours later a member of the band phoned Egan, and told him about the theft, and what had been taken.
After taking the call urging him to be on the look out for the stolen goods he arranged for the items to be crushed.
Egan had claimed he had not associated the instruments to those described to him.
Adjourning sentence, Judge Huw Davies QC told Egan he "faced the prospect of a custodial sentence".
Speaking after the verdict, the Association of Chief Police Officers urged scrap dealers to question those they dealt with.
'Devastating effect'
A spokesperson said: "Scrap metal dealers are an integral link in the metal theft chain, and are open to prosecution if they knowingly process stolen metals."
The association said police were working with the industry to "raise awareness about their responsibilities" in "tackling the growing problem of metal theft".
A spokesman for South Wales Police said: "The theft of these musical instruments has had a devastating effect on an organisation which contributes greatly to the local community.
"We hope the verdict today sends out a message to those who buy stolen goods that this type of behaviour will not be tolerated and those responsible will be dealt with appropriately by the courts."