South and Mid Wales experts join Ardeche cave rescue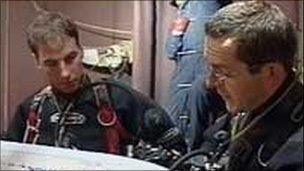 Two members of a Welsh cave rescue team have been flown to France to help free a diver trapped underground for a week.
John Volanthen and Rick Stanton of the South and Mid Wales Cave Rescue Team (SMWCRT) were specifically requested by the French authorities.
The pair are helping to rescue Eric Establie who has been missing in the Dragonnière Gaud cave near Labastide de Virac in the Ardeche region.
It is believed he is still alive having taken refuge in an air bell.
SMWCRT spokesman Piers Hallihan said latest developments suggest there has been a collapse in the cave passage 2,560ft (780m) from the entrance and that the missing diver was trapped behind it.
He said there were only a small number of cave divers in Europe capable of running rescue operations at those depths and French cave rescuers had asked for Mr Volanthen and Mr Stanton.
They were flown to the Ardeche by an RAF helicopter.
Mr Hallihan said it was "highly unusual" but that the pair were "very, very" experienced in such operations.
They are among 200 volunteers with the SMWCRT which covers the whole of mid and south Wales.
He said reports from France suggested the collapse itself had been deemed too dangerous to pass and, while the divers continue to explore underwater options, a team of diggers is attempting to break into a suspected dry cave from the surface.
Mr Stanton, a firefighter from Coventry, was involved in the rescue of 13 British cavers in Mexico in 2004.
Together with Mr Volanthen, from Bristol, they have also developed their own highly specialised cave diving equipment.
"Both of the guys have considerable expertise," added Mr Hallihan.
Related Internet Links
The BBC is not responsible for the content of external sites.