'One way plan' for Swansea's River Tawe bridges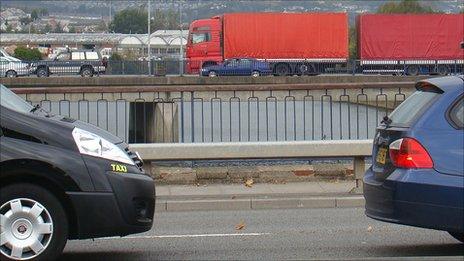 The two road bridges crossing Swansea's River Tawe close to the city centre may be effectively turned into separate one way systems in a bid to cut congestion.
Swansea council said studies show the clockwise movement of traffic around the bridges could dramatically reduce queues on a main gateway to the city.
The work would form part of its multi-million pound boulevard project to improve the city.
The council said it would seek the views of the public before proceeding.
Cabinet members are being asked to approve a more detailed studied.
Officers say a number of options have been examined and the most effective seemed to be a clockwise movement of traffic around the bridges with a two-way flow remaining across the southern bridge closest to the Sainsbury's supermarket.
Research suggests that if nothing is done by 2020 peak time congestion would increase by 16% in the morning and 24% in the afternoon.
The council said the same studies showed the changes could lead to a 48% reduction in morning peak time congestion and a 9% reduction in the afternoon.
Strengthening the bridges would also be part of the work which would not start until at least late spring 2011.
Council leader Chris Holley said: "Anyone who drives in and out of Swansea city centre along Quay Parade is familiar with the bottlenecks that can build up at the river bridges and how frustrating the traffic tailbacks can be.
"It's crucial we act to tackle this congestion because our research shows the problem will only get worse over the next 10 years if we do nothing."
Subject to cabinet approval, the next step would see the completion of detailed design work and then public consultation.
Related Internet Links
The BBC is not responsible for the content of external sites.