Funeral of 'courageous' Swansea soldier Matthew Thomas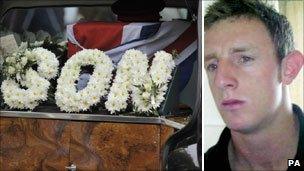 The funeral of a Swansea soldier killed in an explosion in Afghanistan has taken place under extra security.
Up to 600 mourners attended the funeral service of Cpl Matthew Thomas, 24, who died in the Garmsir district of Helmand province on 25 September.
Cpl Thomas was a member of the Royal Electrical and Mechanical Engineers (REME) and was also attached to the Special Forces Support Group (SFSG).
He died after his vehicle was struck by an improvised explosive device (IED)
Cpl Thomas was laid to rest with full military honours at Swansea's St Mary's Church.
The media was asked not to reveal the identities of the special forces colleagues carrying Cpl Thomas' coffin and reporters were kept out of the church at the family's request, which gave anonymity to those speaking inside.
An additional crowd of at least 200 paid their respects outside the church during the funeral, which was a traditional service of hymns and bible readings.
In contrast to most military funerals, many servicemen wore dark suits instead of their official uniforms.
Cpl Thomas' mother Beverley said the 24-year-old was the perfect son who was passionate about his career in the army and had lived life to the full.
In a tribute issued via the Ministry of Defence ahead of the service, she said: "No words can express how incredibly proud we are of our son.
"As parents Robbie and I couldn't have wished for a more perfect son.
"He was thoughtful, kind, considerate, happy-go-lucky and always had a smile on his face. He was full of energy and fun, he lived life to the full."
She said he "idolised" his grandparents, Christine and Raymond, and that family life meant a lot to him.
"As Matthew grew into a young man his many friends also became his family," she added.
"I know that their families found it an honour to claim him as one of their own.
"He made friends wherever he went from all parts of the country and all walks of life."
She added: "We are devastated by our loss, but we draw strength from the knowledge that
Matthew meant so much too so many.
"He had always wanted to join the Army and was extremely proud on the day of his passing out parade.
"This passion to be the best at everything he did saw him promoted to the rank of corporal in the REME at such a young age.
"Finally, we would like to express our sincere thanks to all family, friends and the armed forces for their support during this sad and difficult time."
A spokesperson for the Royal Electrical and Mechanical Engineers said Cpl Thomas was "an intelligent, dedicated and courageous man" who was "widely respected and admired".
"Though still a young man he was a natural leader, setting the highest standards, showing enormous moral strength, and nurturing those under his command at every turn," they added.