Victorian handkerchief's new home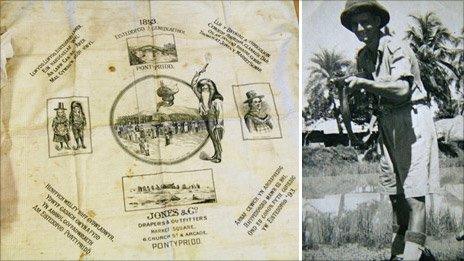 A museum has been given a commemorative handkerchief from the 1893 Pontypridd Eisteddfod, which was found hidden in an abandoned house in Burma during World War II.
It was brought back to Wales by a soldier who had stumbled across it.
But it remained unknown about for decades at Dewi Phillips' home near Swansea until after his death.
It was discovered in a garage full of memorabilia, including live ammunition.
Ian Smith, curator of modern and contemporary industry at Swansea's Waterfront Museum, said: "Lots of artefacts have stories behind them - but this is an amazing story."
He added: "It's gone from Wales, ended up in India, someone from Wales has gone out to fight in a war, and brought it back.
"It actually brings out real history through real people."
The handkerchief depicts the cremation in Llantrisant, near Cardiff, in 1893 of the radical political activist, Druid and surgeon Dr William Price.
It was discovered by Dewi Phillips' daughter, Christine Williams, 57.
Mrs Williams' father died in 2000, at the age of 80, but the family had only just started going through the huge number of souvenirs and mementos he had acquired at his home in Rhos near Swansea.
When she found the handkerchief, she asked her mother if she knew what it was, and she was able to explain the story behind it.
"He was out in Burma and billeted in a large premises, which had been ransacked", Mrs Williams said.
"All that was left was these photographs on the wall, and the paper was coming of them - my father took it off and found this handkerchief."
"Obviously it had been put there and hidden - we don't by who, and we don't know why."
Mrs Williams said she was very pleased to be able to give the handkerchief and a number of other artefacts to the museum.
She also said it had been very important for her to find out more about a past her father seldom spoke about.
"I shed a few tears to see what he might sometimes have gone through and not been able to talk about", she said.
"But I'm filled with pride - it's just been an amazing journey."