Pembroke Dock air raid book aids flying boat appeal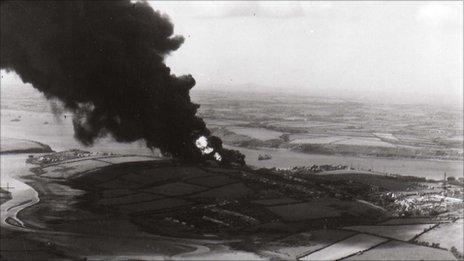 A book detailing the Luftwaffe's raid on an oil depot is being republished to aid efforts to raise the wreck of a World War II flying boat.
Around 650 firefighters, including five from Cardiff who perished, fought the flames near Pembroke Dock for 18 days.
To mark the 70th anniversary of the bombing, Inferno 1940, containing many first-hand accounts, is being reprinted 30 years after it was written.
Proceeds go to Pembrokeshire's Sunderland Trust heritage project.
It aims to recover the wreck of a Mark 1 Sunderland Flying Boat from under 60ft (18.3m) of water off Pembroke Dock.
The unique aeroplanes played a key role in the Battle of the Atlantic, and the town was the largest flying boat station in the world.
The plane sank without casualties in a gale in 1940 and was only discovered by divers decades later.
Inferno 1940 was written by late journalist and author Vernon Scott and published by the Western Telegraph newspaper in 1980.
It has been out of print for the last 25 years.
John Evans of the trust said: "The book was an instant success and sold throughout the world.
"Vernon interviewed many individuals with first-hand memories of this dramatic chapter in local and national history, graphically telling a story of an aerial attack on an undefended Pembroke Dock.
"It left behind a huge fire, the largest in Britain for centuries, and tales of great heroism and ultimately tragedy, with the death of five Cardiff firemen."
Mr Evans said the trust, which plans to display the wreck at the flying boat centre it opened in Pembroke Dock last year, was a project close to Mr Scott's heart.
Related Internet Links
The BBC is not responsible for the content of external sites.