Customs seize 114,500 cigarettes in Cardiff shop raids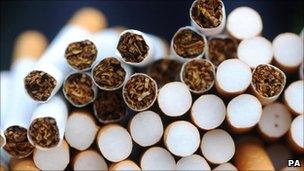 Customs officers have seized 114,500 cigarettes and six kilos of smuggled rolling tobacco in raids on two shops in Cardiff.
Two men were arrested and questioned about attempts to evade paying duty and further investigations are continuing.
Officers said they had also two seized two vehicles - a van and a car - during the operation on Wednesday morning.
They said the haul was worth in excess of £30,000 and that the duty owed was over £22,000.
Keith Morgan from the HM Revenue & Customs special investigations said: "Yesterday's operation resulted in the seizure of tens of thousands of illicit cigarettes that would eventually have ended up on the streets of Cardiff.
"Cheap, smuggled cigarettes may seem like a bargain but they have a hidden cost.
"Shops selling illicit cigarettes undermine honest businesses, putting their livelihoods in jeopardy.
"And it is fair to assume that those who sell cigarettes 'under the counter' can be less fussy about who they sell to - including children."
He urged anyone with information about tobacco smuggling to contact HMRC's customs hotline on 0800 595000.
Related Internet Links
The BBC is not responsible for the content of external sites.