Rugby charity beard call to honour Ray Gravell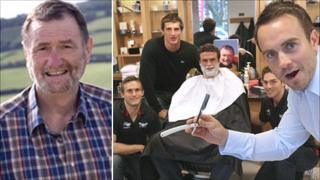 A charity is asking men across Wales to grow a beard during November in homage to late rugby great Ray Gravell.
The Welsh Rugby Players' Association (WRPA) has teamed up with the charitable trust founded in his honour for the "Grow a Grav" campaign.
The former Llanelli and Wales centre, who became an actor and broadcaster, was widely known as Grav.
He died aged 56 in October 2007 and money raised will go towards causes close to his heart.
WRPA president and former Wales and Cardiff Blues player Rhys Williams said: "Ray Gravell was such an iconic figure in Welsh rugby that we wanted to do something fitting to remember him whilst also raising money for the Ray Gravell and Friends Charitable Trust and the WRPA Benevolent Fund.
"We hope that it won't just be players getting involved in Grow a Grav.
"We want businesses, rugby supporters and Ray Gravell fans alike to get behind the campaign."
It has the backing of players from all four Welsh regional rugby sides.
Robert Williams, the chair of trustees from the Ray Gravell and Friends Charitable Trust, said: "We were thrilled when Rhys came to us with the suggestion for Grow a Grav.
"It is an idea that he would have loved and is a great way to raise funds for the causes closest to Grav's heart."
In order to take part in Grow a Grav, the WRPA is asking people to make a donation via its website.
Mr Williams added: "People should e-mail pictures of their 'Gravs' to the WRPA by the end of the month and the photos will be uploaded onto our website.
"As a thank you, everyone who takes part will be entered into a competition for the best 'Grav', the prizes include a signed Welsh jersey, regional jerseys and match tickets."