Giant whale sculpture created on Fishguard beach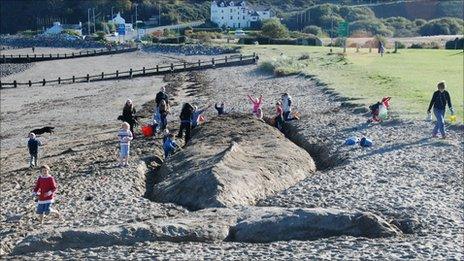 Volunteers have created a giant sand sculpture of a whale near a Pembrokeshire harbour.
Around 50 people, including children, helped with the 25m (82ft) project at Goodwick Parrog near Fishguard.
Part of the 1956 film version of Moby Dock starring Gregory Peck as Captain Ahab was shot there.
The Sea Trust, which monitors and campaigns to protect marine life off the county's coast, organised the school half-term event.
Organiser Cliff Benson said it took five hours to complete.
"I just wondered how big it would look and if we could get enough people together to build it," he said.
"In the end loads of kids and parents turned up and we moved tons of sand.
"We had no plan whatsoever - we started on the tail and just kept going."
The charity said it was planning to attempt a record for the largest sand sculpture when it aimed to create a blue whale over the Christmas holidays.
Related Internet Links
The BBC is not responsible for the content of external sites.