Dylan Thomas sketches first for Swansea festival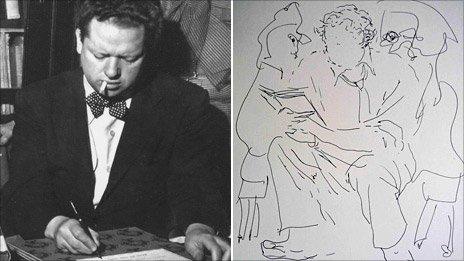 A series of sketches of Dylan Thomas which have never been exhibited before are going on show in Swansea, the poet's home city.
They were drawn by artist Dodie Masterman during his north American lecture tour of 1950.
The sketchbook, which also has doodles by Thomas himself, was found by Ms Masterman's son Fairless after she died last December, aged 91.
The sketches are being unveiled at Swansea's Dylan Thomas Centre.
The exhibition also includes an audio recording of Ms Masterman recalling her meetings with Thomas.
They first met when she was evacuated to Swansea in World War II, but it was only after a chance reunion in Washington that she sketched the poet.
The artist is best known for her illustrations of the Peter and Jane children's books in the 1950s.
She also taught drawing at the Camberwell School of Art in London for more than 20 years.
Her work is being shown as part of this year's Dylan Thomas Festival, which starts on Wednesday.
Exhibition curator Jo Furber said: "We're very excited that these wonderful drawings are on display for the first time and that thousands of visitors to the Dylan Thomas Centre will have the opportunity to see them in the coming months.
"They provide a fascinating insight into another aspect of Dylan's creativity and his relationship with other artists.
"Dodie's drawings capture Dylan perfectly and we're grateful to Fairless Masterman for loaning them to us."
The Dylan Thomas Centre has a few of Thomas's drawings in its collection as well as his only watercolour painting.
This year's festival also includes the first full Swansea performance of a new one-man play on David Lloyd George, a reading by former Poet Laureate Sir Andrew Motion and a discussion with Shadow Welsh Secretary Peter Hain on his book on Nelson Mandela.
Related Internet Links
The BBC is not responsible for the content of external sites.