Complaint over adverts painted on Swansea student house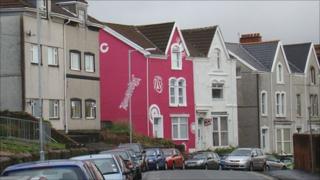 A bright pink makeover for a student house - complete with advertising on its walls - has faced a mixed reaction in Swansea.
Planning officers are discussing the paint-job on the property in Brynmill with its owners after a complaint.
But the landlord said although it has turned heads he has been assured there is not an issue.
It had been run down for several years before refurbishment. One councillor called it an improvement.
The property in Bryn Road, near Swansea University, has been painted to match a Cardiff-based events company's website with its logo and web address in white on the external walls.
But the bright makeover has not gone down well with everyone.
Swansea council said it had received a complaint and was working with the company.
Landlord Condor Properties said it had checked with its architect before the house was painted following extensive renovations and been assured it did not break rules.
Director Alan Savoury said he was approached by the events company to see if his firm was willing to take part in the promotion.
"It's gone down well with the students - we have had a lot of positive comments," he added.
County councillor Peter May, who lives nearby, said the property used to look very run down.
"When the colour was painted on it I thought it was an improvement - I was quite taken aback and impressed because it had been an eyesore.
"A couple of days later some writing appeared on it. It's not offensive in any way.
"I don't know whether there is any planning issue - it would be down to the planning officers whether they have a view on it."