Llanelli woman owes £11,000 for 160 parking tickets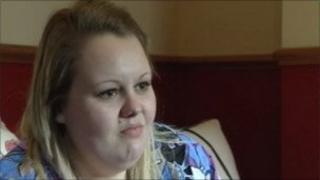 A 21-year-old woman owes £11,000 after being fined 160 times for illegal parking outside her home.
Carmarthenshire council said Charlotte Williams had refused to pay £30 for a residents' parking permit in Llanelli and also parked on double yellow lines.
It has called in bailiffs to retrieve part of the debt and legal fees accumulated over two years.
Miss Williams said she felt "targeted" as fines were being added daily.
She said her car was registered at another address so she could not buy a permit.
She also said she moved into the house on Old Castle Road, which belongs to her father, after becoming unemployed so she could not afford a permit anyway.
Since October 2008 she has been issued with 160 fixed penalty notices, including five in five days earlier this month, totalling £9,600.
The council said it had written to Miss Williams 381 times and made a lot of effort contacting and speaking to her personally but she would not co-operate.
With legal and administration fees her total bill is now £11,000.
Executive board member for transport Philip Hughes said: "It is unfair for the woman to get away with paying the fixed penalty notices.
"This is taxpayers' money. Other people who park illegally are expected to pay their fines."
Coun Hughes said calling in the bailiffs was a last resort.
"All other efforts to resolve the issue have been exhausted.
"It is not something the council does lightly."
But Miss Williams said she believed the council had gone too far.
"I felt a bit targeted really because I was getting them [tickets] daily.
"Say the car had not moved - I would have two or three tickets on the car which I think is a bit wrong really."
She said she had set up a standing order to start repaying the money but there was a mix-up with her bank accounts.
'So stressful'
Miss Williams said bailiffs had called at the house and although the property inside belonged to her father they had threatened to take her dog.
She said her grandmother had handed over almost £7,000 to bailiffs - most of which was to the pay the company for call outs.
"I can't believe that the council have let it get to this stage. It's so stressful," she added.
She has urged the council to cut the amount she owes claiming she could be made homeless if she had to repay it in full.