Linamar car plant in Swansea closing at end of week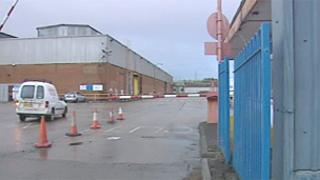 Two hundred employees at a car components factory near Swansea have been told it will shut this week, a union says.
North American-based Linamar announced in July it planned to close its plant on Fabian Way.
It said the decision followed an "extensive review" which found "no viable future for the operation".
The Unite union said workers were "devastated" and condemned management of the plant once owned by Ford.
National officer Roger Maddison said: "This is a sad time for our members at Linamar, who are devastated as the plant in Swansea closes for business this week.
"It beggars belief that Linamar can find millions of pounds to close the plant in Swansea and move work to Mexico, yet it could not find that same money to invest in a highly-skilled and committed workforce.
"Our members have paid the ultimate price by being dumped on to the industrial scrap heap just for defending the pay they had fought for over the 40 years the plants has been open."
The Swansea plant opened in the 1960s and was formerly owned by Ford and Visteon before being acquired by the Linamar Corporation in 2008.
At that time it employed over 350 people.
Linamar has been asked to comment.