Illegal workers arrested at Pembroke power plant site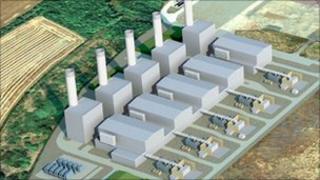 A number of arrests have been made in an ongoing operation targeting illegal workers at the construction site for the new Pembroke power plant.
UK Border Agency officials and police visited the site at 0700 GMT.
The agency said a number of Indian men working for a sub contractor had been detained as suspected illegal workers.
Earlier this year there were large demonstrations at the entrance to the site by people demanding construction jobs be given to British workers.
The agency said officers visited the site after receiving information that illegal workers were being employed there by civil engineering sub-contractors.
It said it was still questioning those detained but they faced removal from the UK if found to be working illegally.
Enforcement operation
A spokesman said: "It is believed the illegal workers were employed by civil engineering sub-contractors who may now be served with a civil penalty notice for employing illegal workers.
"If the employers are unable to prove to the agency that right-to-work checks were carried out before giving the men jobs, a fine of up to £10,000 will be imposed for each illegal worker.
"The enforcement operation was carried out as part of an ongoing UK-wide campaign by the agency to tackle immigration crime."
The work on the power station, which will be run by RWE npower, started in May 2009 and is due to last three-and-a-half years.
Once completed it will be the largest of its kind in Wales.
It is thought there are around 1,500 construction staff working on the plant.