Phone fault strands new mother in Ceredigion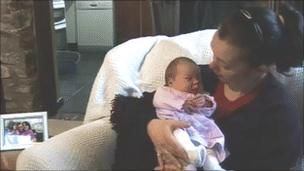 A new mother in Ceredigion has been left without a phone for a month after BT failed to fix a fault on her line.
Linda Gibbons said she is furious and said she is struggling in an emergency because of poor mobile reception.
The problem means she is currently unable to speak to her soldier husband, who is serving in Afghanistan. BT says it is working to resolve a "complex" fault.
It has affected a total of 10 homes in Gorsgoch near Llanybydder.
Among the others inconvenienced by the blip are an 80-year-old woman, a family whose daughter has a life-threatening food allergy and a couple whose business depends on their BT landline and broadband connection.
They say their mobile connection is too poor to be workable and their home phones are their lifeline.
Mrs Gibbons told BBC Wales she first noticed the fault on 11 November while heavily pregnant.
She began experiencing contractions on 19 November and had no reliable means of calling an ambulance.
She said: "I had to perch on the sink in the kitchen or stand outside to get a signal which is patchy at best.
"When we had the snow, there was no mobile signal at all, so we were without the internet, mobile and the landline.
"It would be nice to do some online shopping now that the baby is born, so I don't have to take her out into the weather.
"But the worst thing is my husband is in Afghanistan and there is no way of him contacting me as I can't phone him."
She says she is furious the fault has not yet been fixed.
"If there was an emergency and I can't get a phone signal I'm a bit stuck, especially with the snow, I can't get out.
"They haven't said anything about why it hasn't be fixed - they are just blaming the weather, but we were without a phone for three weeks before the snow came."
Neighbour Catherine Cooper's daughter suffers from a serious food allergy which means she needs to have medication near her round the clock and could need emergency treatment at a moment's notice.
She said: "It's a huge problem for us as we have poor mobile reception so that lifesaving lifeline is completely gone.
"My husband depends on our broadband for his business so he hasn't been able to work."
A spokesperson for BT said specialist equipment was needed to repair the fault.
"According to our records, a fault was reported on 20 November. An engineer visited the following day.
"It is a complex repair involving the replacement of a pole and several hundred metres of overhead cable.
"We are working to resolve this as quickly as possible."
The fault was rectified by BT on 9 December. A spokesman said: "I am pleased to report that service has been restored. It was a complex job involving the replacement of a pole and several hundred metres of overhead line."
Related Internet Links
The BBC is not responsible for the content of external sites.