Former Llanelli teacher banned over bully claims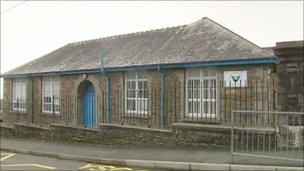 A former teacher in an autistic unit near Llanelli accused of bullying pupils has been banned from teaching for a minimum of three years.
It was claimed Glenda Lynette Partridge dragged children across the classroom, denied children food and used an exercise treadmill as punishment.
A General Teaching Council for Wales hearing in Cardiff heard she ran the unit at Pwll School until 2005.
The hearing found she was guilty of unacceptable conduct.
It heard Partridge also physically held one pupil's head in front of a TV screen while the video was fast forwarded and rewound despite him being terrified and screaming.
The panel heard she used food as a punishment - that she would take food away from pupils she considered misbehaved and that, on occasions, that would lead to the children not being fed all day.
One of the teaching assistants described an occasion when the group was taken to a fast food restaurant and one child was made to stay in the bus while the others all had lunch.
The pupil was brought out a sandwich 45 minutes later and made to eat it in small pieces, causing him considerable distress.
Teaching assistants said they were in fear of Mrs Partridge and claimed they had been told by a former headmaster that if they complained it would be their word against hers, the hearing was told.
She was found to have used inappropriate punishment techniques on the pupils in her care.
The panel said these could not be considered techniques to modify the behaviour of autistic children and found they constituted unacceptable conduct.
Committee chairman Peter Williams said: "They were fundamentally incompatible with standards expected from the teaching profession, a complete abuse of the position of trust and a violation of the rights of pupils particularly with regard to the vulnerable pupils in her care."
In a statement issued via Carmarthenshire council the school's current head teacher Paul Trotman said the disciplinary case related to "historical alleged incidents" involving a former teacher.
"At the time, the school acted proactively, following appropriate procedures in line with governing body policy, local authority advice, and always in the best interests of the children," he said.
"These investigations and procedures led to the teacher leaving the classroom in 2005.
"As a new head teacher at the school, I have been highly impressed with standards in learning and equally importantly, the commitment to promotion of pupil wellbeing, throughout the school.
"I am proud to say that the welfare of all pupils at Pwll Primary School is of paramount importance to the entire school community."