Pembrokeshire broadband trial using analogue frequency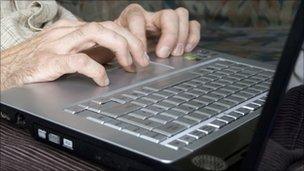 A high speed wireless broadband system using part of the radio spectrum freed-up by the digital TV switchover is being tested in Pembrokeshire.
Communications firms Arqiva and Alcatel-Lucent are testing the technology in the Preseli mountains.
They say it could eventually solve the problem of broadband 'not-spots' across the UK.
It is the first time they have tested the system in the UK and chose west Wales as it has switched to digital TV.
Over the coming weeks industry, regulation and government representatives are being invited to the area to see the system in action.
It uses the latest LTE technology, sometimes referred to as 4G, to deliver up to 50 Mbit/s links for homes and businesses.
The 800MHz spectrum they are using was freed up by digital TV switchover.
The companies say the Preseli area is ideal for the trial as households have already switched.
It is characterised by low population density with remote villages making it typical of areas that cannot be reached economically with the existing land networks.
It is estimated around 10% of households in the UK do not have access to reliable, high speed broadband.
Rob Hamlin of Arqiva said the idea was to make the technology available to as many broadband service providers as possible offering households and businesses a wide choice.
To receive the signal customers either need an antenna about half the size of a television aerial or a small box that would sit on a windowsill to provide wi-fi.
Mr Hamlin said they were demonstrating a wide range of services including on demand video such as the BBC iPlayer in areas where they have never been available before.
Ofcom - the independent regulator and competition authority for the UK communications industries - is currently reviewing what to do with the frequencies freed up by digital switchover.
Mr Hamlin said the technology they were demonstrating could help solve the issue of not spots across the UK and have significant benefits for households, businesses and farms.
Related Internet Links
The BBC is not responsible for the content of external sites.