Copper thieves target Linamar car plant near Swansea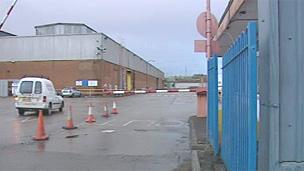 Scrap metal thieves who broke into a car plant near Swansea that closed last month have taken a large amount of copper cable.
Police said several people entered the Linamar factory on Fabian Way sometime between 3 and 6 December.
They made off with around 200 metres of copper cable.
Police said the thieves risked their own lives and those of others by disrupting power supplies to steal the metal which will be sold as scrap.
The factory run by the north American based Linamar Corporation ceased production last month with the loss of 200 jobs.
Det Sgt David Butt of Neath Port Talbot Police said: "Thieves are risking their lives and those of innocent members of the public by stealing copper wiring.
"We are warning those responsible that they are not only exposing themselves, and others, to the risk of fatal injuries but the disruption to power supplies could also have serious consequences for the public and emergency services."
He said if anyone suspicious activity of people loading or unloading metal or copper cable into or from a vehicle they should call the police immediately.
Contact South Wales Police on 101 or Crimestoppers anonymously on 0800 555 111.
Related Internet Links
The BBC is not responsible for the content of external sites.