Cat calls police in Swansea dialling 999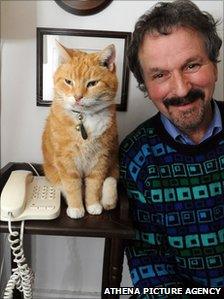 Police responding to a 999 call in Swansea discovered they had been summoned by a cat.
Ginger's owner Howard Moss was fast asleep in bed when he was woken by officers banging on his front door.
After letting them in during the early hours of Tuesday they found the pet reclining next to the unhooked phone with one of his paws on the keyboard.
Mr Moss said police took the false alarm in good humour and Ginger was unaware of the commotion he had caused.
The retired lecturer said it was only recently Ginger had started sleeping on the table next to the phone.
He said he was fast asleep in bed when police knocked on his door.
They had received a 999 call from his home in Brynmill but no message had been left.
"I was puzzled because I was alone in the house and fast asleep," he said.
"I didn't know what was going on to be honest.
"The phone was slightly off the hook and Ginger had one of his paws on the phone keyboard."
He said police quickly came to the conclusion that it must have been Ginger who had dialled 999.
"He has never dialled a phone number before but the chances of it happening must be so small."
South Wales Police confirmed that officers had responded to an emergency call early on Tuesday.
"It would appear that the call was made as a result of a family cat laying across the phone," said a spokesman.