Skaters rescued from frozen ponds in Llanelli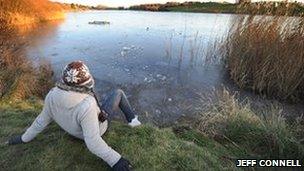 Ice skaters have been warned to stay off frozen ponds in Carmarthenshire after numerous rescues.
The plea comes as 13 people found themselves in difficulty while on the ice.
Council park wardens say young people in particular have been ignoring signs warning them to stay off the frozen waterways.
In the latest incidents two skaters had to be rescued at Old Castle Pond and Dafen Pond in Llanelli.
The wardens have responded to other incidents at Swiss Valley in Llanelli, and at Cwmoernant in Carmarthen.
Carmarthenshire council grounds maintenance manager Paul Murray said: "Some people have been risking their safety by attempting to walk or skate on the frozen ponds.
"Not only is this a grave risk to themselves but also jeopardises the safety of anyone who may have to attempt to rescue them.
"We can't emphasise enough the dangers of trying to walk, skate or play on this ice."
He said although ice has been found to be more than 15cm (6in) thick in parts.
However, there was considerable thinning and weaker ice in the middle of some ponds where the water is deepest.
Parts of Old Castle Pond are 40ft (12m) deep and Cwmoernant has a central well more than 100ft (30m) deep.
Mr Murray says anyone who sees a person, or a pet dog in trouble on a frozen waterway is strongly advised not to attempt to go on to the ice themselves.
Instead they should call 999, and to use something that will extend their reach from a safe, secure, place on dry land to throw to the person.
Related Internet Links
The BBC is not responsible for the content of external sites.