Ospreys' study finds fingers can point to rugby talent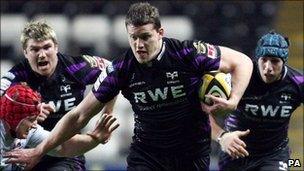 Researchers say the relative length of a top rugby player's fingers can help predict how good they are at the sport.
Swansea University, working with the Ospreys squad, has looked at the length of each players' second and fourth fingers and their performance.
People with a longer ring finger than index finger had previously been thought to be better at sport.
The Ospreys' study showed they were likely to win more international caps and score more tries.
The results of the study by the university's Department of Psychology and the Sport and Exercise Research Centre, have been published in the Journal of Sports Science.
Prof John Manning who led the research said a low second finger to fourth finger ratio had previously been reported to correlate with high performance in sport.
He said the length of a man's ring finger compared with the length of his index finger may be linked to the amount of testosterone he was exposed to in the womb.
It is used as a biomarker for achievement in various sports, athletic disciplines and cardiovascular disease, but had not previously been used for rugby.
Prof Manning said: "This is the first time that the relationship between this ratio and performance in elite rugby players has been examined.
"It links a straightforward measure in the fingers to rugby performance, for example the number of caps for Wales and number of tries scored.
"Performance was measured in 44 players - 28 forwards and 16 backs - from the 2008-2009 Ospreys' squad."
He said a number of factors were taken into account including age, whether the player was first choice or reserve, and the number of tries scored by backs in club matches.
Compared with the control test sample of UK males, players had a lower second to fourth finger ratio for their right and left hands.
Players with a low second finger to fourth finger ratio in their right hand and a low right second finger to fourth finger ratio compared with their left had more international caps.
"The research has shown that that a low right second finger to fourth finger ratio and low right - left second finger to fourth finger ratio difference are predictors of high rugby performance," Professor Manning added.
"It is thought that these relationships may be linked with high prenatal testosterone."