Air ambulance stopped from Swansea landing by snowballs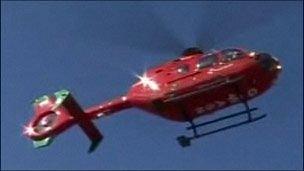 A group of youths stopped an airborne ambulance crew from landing at an emergency call in Swansea by pelting the helicopter with snowballs.
It had been trying to land in Paradise Park in Townhill but was attacked by around 10 youths on Friday.
Paramedic Ross Griffin who was on board the helicopter said the consequences could have been "catastrophic" forcing the aircraft to crash.
The patient was eventually driven to hospital by police in a 4x4 vehicle.
Mr Griffin said: "On our approach a group of youths started throwing snowballs.
"Thankfully none of them actually hit the aircraft or the rotors because that could have been catastrophic really, it could have forced the aircraft either to crash or make a forced landing," he told BBC Radio Wales.
"Not only that, the patient we were trying to get to did not get our help because we had to abort the landing and leave the area.
"It just beggars belief what goes through these people's minds."
Mr Griffin urged anyone who knew who was responsible to contact the police.
"It was obvious it was the air ambulance. We were landing there for a reason. What were they thinking? I'm just stunned."
Related Internet Links
The BBC is not responsible for the content of external sites.