Annual Pembrey Beach Boxing Day swim put on ice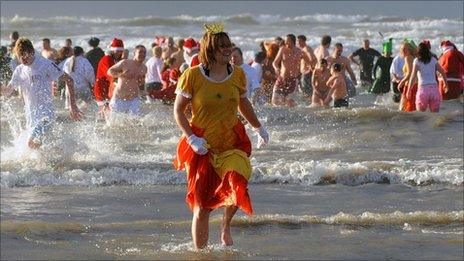 A Boxing Day dip that attracts hundreds of swimmers has been cancelled for the first time in its 24 year history.
The Walrus Dip at Cefn Sidan Beach near Pembrey in Carmarthenshire is on ice due to "arctic conditions".
All beach car parks and sections of the roads leading there were compacted with ice and unlikely to thaw in time, the council said.
Organisers of Tenby's Boxing Day swim and Porthcawl's Christmas Day swim say both will go ahead as planned.
Carmarthenshire council's parks manager Neil Perry stressed the decision to call off the Walrus Dip had nothing to do with the sea temperatures.
He said although the residue left from the waves was freezing almost as soon as it hit the sand "our dippers would have enjoyed the challenge in these temperatures."
But with no thaw predicted before Boxing Day and with up to 1,000 cars arriving at the beach within an hour there could be serious problems, he added.
He said the RNLI and St John Ambulance also needed to be present and had to have advance warning.
Mr Perry said: "We obviously apologise for having to cancel the event.
"Health and safety has to be our priority and the decision has been taken based on the conditions at the park which could be dangerous if such a high volume of people arrived."
As well as seeing swimmers in all manner of fancy dress brave the sea, the Walrus Dip has become popular with spectators.
Swimmers taking part in the Christmas Day swim at Porthcawl are asked to register between 1045 and 1115 GMT.
Spokesman Ian Stroud said: "I have checked the latest forecast which is showing clear skies and sunshine for Porthcawl on Christmas Day so if you can get here safely we are looking forward to making our 46th swim a memorable one."
Tenby's Big Red Swim will take place at 1100 GMT on Sunday.
Swim chairman Chris Osborne said the current cold conditions were "special weather for a special swim".
"As long as everyone keeps warm before the dip, I am sure the swimmers' afterglow and the spectators, the soup, the bonfire and overall seasonal camaraderie will help everyone defy the chill," he added.
Related Internet Links
The BBC is not responsible for the content of external sites.