Decision on A48 junctions in Carmarthenshire deferred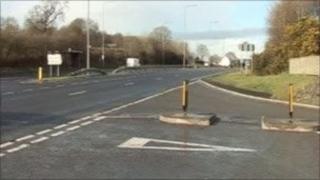 A decision on whether to stop traffic crossing oncoming lanes at most junctions on a busy stretch of a 70mph dual carriageway has been deferred.
A safety review was carried out on the A48 between Pont Abraham and Cross Hands in Carmarthenshire.
The four-mile stretch has a "higher than average accident rate" including three fatal accidents in five years.
Most junctions crossing the central reservation would be blocked but some local people have objected.
They would have to travel to the roundabouts at Cross Hands or Dawn Pac at the western end of the road or Pont Abraham on the east to change direction instead of crossing the carriageway to reach home.
Members of Carmarthenshire council's executive board deferred a decision and asked for more information.
A report before them recommended all but a handful of central reservation junctions serving private homes were blocked.
It included the crossing at Cwmgwili where two people died in separate accidents in 2009.
At an inquest into the death of local businessman Roger Bowen in September, Carmarthenshire coroner John Owen said unless action was taken to improve safety at that spot he would force the issue.
The inquest heard there had been concerns about that junction since 2004.
Speaking ahead of Wednesday's meeting, Mr Bowen's sister-in-law Marie Watkins said the changes should go ahead.
"We've been saying for years it's very dangerous and I think it takes something like this for people to take notice," she said.
"I think because it's happened in the family we are more aware of it.
Speed limit
"I would rather spend five to 10 minutes longer on my journey and be safe and know that my family is safe."
But the council received a wide range of objections to the planned changes.
Local farmers said it would add considerable distance to their journeys and could create new safety issues with slow-moving vehicles such as tractors having to travel for longer on the road.
Some residents of Llanedi, Cwmgwili and Ystlys y Coed Uchaf also opposed the move with a suggestion that the speed limit could be reduced to 60mph to improve safety instead.
Llinos Evans, a community councillor for Cwmgwili, said: "All the farms have fields across the roads, so agricultural vehicles will have to go all the way up to the roundabout.
"Everyone knows what's happened on the junction, especially in the last two years, so safety is paramount.
"But I would like to see speed cameras - speed is the issue on the A48.
"Everybody is pro something being done, but we're against everyone being penalised."