About 70 stray horses close Llanelli coastal road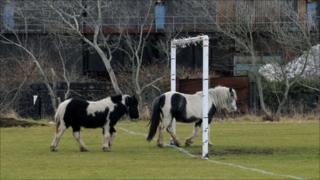 Up to 70 stray horses are forcing the closure of sections of Llanelli's coastal road.
Diversion signs were in place again on Tuesday as police and council officials said the animals had been running wild for several months.
As well as posing a risk to drivers they have caused damage to parks, football pitches and a golf course.
A meeting to try to find a solution to the problem will take place on Thursday.
Carmarthenshire council said it suspected it knew who owned the animals but as they had not been micro chipped and did not have horse passports it was very difficult to prove.
A spokesman said the horses had been causing "immense problems" for the several months.
"We've had about 70 horses roaming from Bynea to Kidwelly - the inconvenience is enormous," he added.
The Trostre by-pass and a section of the coastal road between North Dock and Machynys Golf Course were shut on Tuesday morning.
Dyfed-Powys Police said other roads in the area had been closed previously as the number of strays meant they were a real risk to motorists.
They have been blamed for causing damage to Crown Park, Seaside's Wellfield Ground and Pwll Park.
The council said four horses had died in the recent snow and ice. The RSPCA said it was called after one horse died last month.
The council, along with police, RSPCA, land owners and other interested parties are meeting in Llanelli town hall on Thursday.
"We will try to come with a solution to deal with those horses where their owner cannot be immediately identified to rid Llanelli of this problem," added the council spokesman.