Swansea's Longfields disability centre closing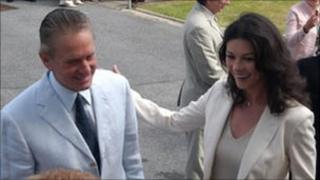 A day centre in Swansea attended by 34 people with learning and physical disabilities will close in the summer.
The charity that runs Longfields in West Cross says it is no longer financially sustainable.
It will now work with the city council to make alternative arrangements for those who use it.
Actress Catherine Zeta Jones and her husband Michael Douglas made a five figure donation in 2003 for a hydrotherapy pool at the unit.
The Swansea-born actress was a patron of the Longfields Association before it merged with the UK learning disability charity Walsingham last year.
The centre has been in the city for 59 years.
Walsingham chief executive Paul Snell said: "It is with much sadness that we have taken this decision.
"We merged with the full intention of continuing and enhancing the day service at Longfields.
"However, despite our substantial investment in the centre, we are no longer able to continue providing this service as the financial losses are too great.
"We understand that the people who attend Longfields and their families will be concerned about this decision."
The centre in West Cross employs 19 staff.
Mr Snell added: "In addition, we will support all of our employees working at Longfields by holding individual consultation meetings to discuss their options."
The charity said when the centre closed in the summer it may be sold.
"I would like to make it clear that Walsingham will not profit from the future sale of the Longfields site in any way whatsoever," said Mr Snell.
"As agreed with the Longfields Association at the time of the merger, the profits will be reinvested by Walsingham for the benefit of people with learning disabilities in the Swansea area."
Swansea council's cabinet member for social services Nick Tregoning said: "The number one priority for us and Walsingham now is to make the transition as smooth as possible for those who use the services.
"I am very pleased to hear from Walsingham that if Longfields is sold after the centre has closed all the proceeds will be ploughed back into services supporting people with learning disabilities in Swansea."