Rise in emission limits 'likely' at Port Talbot plant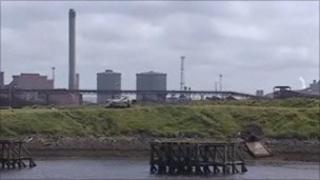 The Environment Agency says it is likely to ease emissions limits at a £400m biomass plant in Port Talbot.
Prenergy wants to make the changes due to the design of the wood burning power station but says it will still meet the highest environmental standards.
The agency said it was confident air quality would not be compromised.
The company said changes were well within EU limits but opponents said "fundamental objections" over risks to air quality and health remained.
Residents and other interested parties now have 28 days to make their views known to the agency.
The agency said it had carried out an "in-depth investigation" to establish if there would be any risk to health or air quality.
It said it had consulted the Abertawe Bro Morgannwg University Health Board, Neath Port Talbot's environmental health department and others.
Mary Youell, of Environment Agency Wales, said: "After an in-depth examination of the changes that Prenergy applied for, we are confident that the permit will continue to require the high standards needed to protect local people and air quality in Port Talbot.
"If we thought these changes would compromise air quality standards or the communities we protect, we would not be considering accepting them.
"Although we believe that we should allow the changes, we do feel it is important that local people and interested groups can ask us to look at any more information or comment on these specific changes before we make our final decision."
Plans for the plant, near the town's deep water harbour, were first unveiled in 2007 and when complete it is evisaged it will create enough energy to be able to power 500,000 homes.
Consruction work is not expected to start before the end of 2011.
In a statement, Prenergy said it was pleased the agency was "minded to approve the changes . . . recognising that the changes are insignificant and pose no risk to local people or air quality.
"The revised emission limits remain well within the Environment Agency and European Union emission limits, ensuring the renewable energy plant will operate to the highest environmental standard.
"The plant will create up to 850 jobs during construction and around 150 full-time jobs once the plant is operational, and will provide enough renewable energy for around half the homes in Wales."
Aberavon AM Brian Gibbons said a lot of work had been done to improve the air quality of the area and there was considerable opposition to the plant.
'Polluting'
"The fundamental objections people have still remain and this decision does not provide any more reassurance," he added.
Pete Wilson, of the protest group Port Talbot Residents Against Power Stations, said: "The evidence is that many similar large biomass projects around the country suggest that these schemes are having difficulty acquiring enough reasonably priced wood fuel to make them a viable operation.
"We are concerned why Prenergy should find it necessary now to apply to burn more polluting wood types and more expensive wood types too when they have maintained throughout that there was an abundance of cheap wood fuel available from the USA, Canada and eastern Europe to operate this power station."