Swansea University chosen as Hafod copper site partner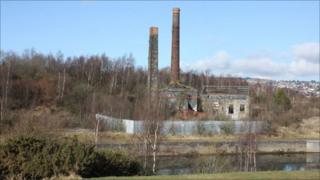 Swansea University has been named the city council's preferred development partner for the historic Hafod Copperworks site.
Last year the land was put on the market with the hope of developing a waterfront hotel, restaurant and homes.
The council admits the response has been disappointing and will now work with the university on new ideas.
The site has 12 Grade II listed buildings and structures dating up to 200 years to Swansea's copper past.
The council said the potential for commercial development remained.
But it would work with the university on a feasibility study to preserve and develop the historic buildings on the site, review the masterplan and investigate sources of funding.
The university said there was potential to develop some of the buildings into "a significant educational and research facility."
The memorandum of understanding naming the university as preferred developer will initially run for a year.
Council cabinet member for economic regeneration Gareth Sullivan said: "It's long been our aspiration to regenerate the historic Hafod Copperworks site but economic conditions have made it difficult to attract a partner that will meet our aspirations for the site.
"Entering into a memorandum of understanding with Swansea University gives an opportunity to explore the feasibility of our aspirations for the site with the university.
"It could also lead to a phased regeneration of the site with the university potentially occupying one of the buildings as an educational facility.
"A Swansea 2020 strategy has been devised to guide the regeneration of the economy over the next 10 years.
"One of its key aims is to develop the knowledge economy and this could add to it."
The site, which will this year mark the 200th anniversary of the first copper ingot rolling out of the Vivian and Sons Copperworks, is made up of more than 12 acres of land close to the River Tawe, the Liberty Stadium and the Parc Morfa retail park.
Prof Huw Bowen, who is leading the university project team, said: "Exploring ways of developing the Hafod Copperworks site for the benefit of future generations offers us the chance - perhaps the last chance - of ensuring that visible signs of Swansea's immensely important industrial achievements are not lost forever.
"It's now hoped that the heritage-led feasibility study can find ways of maximising the economic, social and educational potential offered by the Hafod site."