Mumbles lifeboat's volunteer marks 50th year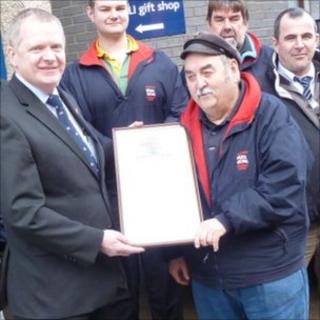 Swansea volunteer lifeboat crew member Brian Jeffrey is celebrating 50 years' service.
Mr Jeffrey, 65, works as winch man as part of the shore crew at Mumbles Lifeboat Station.
He stopped working aboard lifeboats in 2001 having followed his father into the service as a teenager in 1961.
"Brian is a credit to us all," said Mumbles lifeboat operations manager Tim Conway at a special ceremony.
Over the years Mr Jeffrey has also worked as an assistant mechanic on the all weather lifeboat.
And he is thought to have shown thousands of school children Mumbles lifeboats during his time taking guided tours.
He said: "My dad was on the crew for seven years and saved 65 lives. I was immensely proud of that."
The Mumbles station has been in operation since 1863.