Mumbles Pier may close over safety fears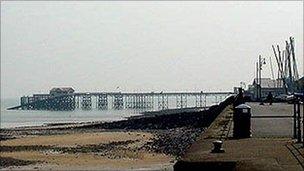 Mumbles Pier may close to the public due to safety concerns, its owners say.
They are spending £35,000 on supporting the original cast-iron pilings but are awaiting a structural report on the condition of the timber decking.
The owners plan a £3m restoration project for the Victorian pier but say it is reliant on developing a hotel and apartments on the foreshore.
It has divided opinion in Swansea with some claiming it would damage the headland and others supporting the bid.
Planning applications have been submitted to the city council and are likely to be determined in the spring.
Scores of people attended a public meeting in Mumbles last November to discuss the proposals.
A spokesman for Ameco, the company that owns the pier, said: "We are currently awaiting a report by our structural engineers which is part of our annual inspection process.
"We are aware that urgent work is needed to safeguard the supporting pilings, which has already been commissioned.
"Further detail is expected regarding the remainder of the pier.
"Should the report indicate that it is no longer advisable to effectively carry out temporary repairs on the deteriorating upper structure and decking then we will be obliged to close the entire pier in the interests of public safety."
He said such action would be "taken most reluctantly" but access to the lifeboat station for the crew would be maintained.
"We had anticipated that planning permission would have been in place before this action became necessary. But we accept that these things happen," he added.
Those opposed to the proposed £39m onshore development say it would be "damaging and intrusive" on the edge of the Gower Area of Outstanding Natural Beauty.
Those in favour say Mumbles is in desperate need of new investment.
The developers say grant assistance is not available to save the pier and it is the only way they can afford to fund it.
Swansea council said negotiations with Ameco over possible amendments to its plans were ongoing and responses from other parties were still being considered.
"We hope the applications will be determined in the spring," said a spokesman.
Related Internet Links
The BBC is not responsible for the content of external sites.