Plea after horse dies in Llanelli estuary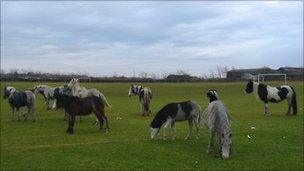 An appeal has been made to owners to look after horses after one died and another was rescued in Carmarthenshire.
The horses were trapped on a narrow strip of land on the tidal plain on the Burry inlet, off Llanelli.
Carmarthenshire council said officers managed to rescue one after being alerted by a walker but the other died.
It is the sixth horse to die on the coast in the last 10 weeks and the efforts are being made to identify the owner.
The council is not linking the two animals with a group of around 70 strays that caused road closures and other problems in December and early January.
It said a woman reported two white horses trapped in the estuary between the golf course at Machynys and the bird sanctuary at Penclacwydd.
Rangers were able to lead one to safety on Friday but the other died.
A council spokesman said due to the incoming tide, marshy ground and problem with negotiating the sea wall it had to use contractors to recover the dead animal on Monday at a cost of "several hundred pounds."
Executive board member Clive Scourfield said: "Irresponsible owners who have no scruples of care for their animals have abandoned horses to fend for themselves and many have been finding themselves in dangerous positions.
"We act as quickly as we could and in this case the priority was to save the one horse we found alive.
"It took some time to recover the dead horse because of the obstacles of sea walls, exceptionally high tides and spongy land preventing vehicular access."
Last month the council, police and landowners met to discuss ways of tackling stray horses in Llanelli.
Councillor Scourfield added: "Since we have introduced the tough measures the horse problem has substantially diminished but we are ready to act at any time."
Related Internet Links
The BBC is not responsible for the content of external sites.